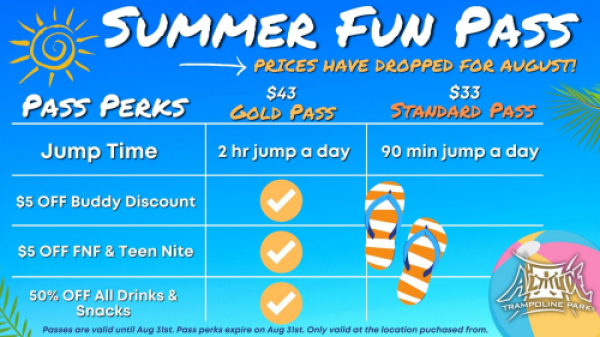 SPEND THIS SUMMER HAVING FUN AT ALTITUDE!



jump every day!!


WE HAVE TWO PASSES FOR YOU TO CHOOSE FROM with SOME PRETTY AWESOME ALTITUDE BENEFITS.
Gold Pass: $43
2 hr jump/day
$5 off buddy discount
$5 off FNF/Teen Nite
50% off discount on snacks/drinks

1 jumper per pass. Valid June 1st-Aug 31st. Pass perks are only valid during ownership of the pass & expire Aug 31st. Only valid at Altitude Avon. Cannot use free jump during Friday Night Friendzy or Teen Nite.
Buy a Summer Fun Pass Now

Online purchase is pretty simple--just make sure to enter the name of the pass owner after you select your pass. When you're ready to pick up your new pass, just bring your email receipt to the park. We'll take a quick pic of the proud owner, give them the pass, then off you go for the rest of the summer! You can also buy the pass in the park or over the phone. Call us at 508-857-1777 if you have any questions.